Hello and welcome back! Thanks for checking in again on my blog during these challenges, it's much appreciated! I hope you're enjoying the content as much as I'm enjoying putting them together.
Day 20's post is:
My Favourite Concert
When I was younger, my mum couldn't afford to take us to things like concerts and shows – but would always make sure we never went without. I literally had everything I could ask for and more, and she was always an amazing mum.
One thing I wish I had of had the chance to experience as a kid was going to see a concert of my favourite bands, and there were many over the years. But for me, when Busted came on the scene, my life was complete and I poured my soul into playing their albums on repeat every single day and night. I probably drove my mum insane, as I would blast them out – not just listen to quietly – but I adored them. My room was literally top to bottom – wall to wall – covered in their pictures and posters.
I was 13 years old when they split up and I remember feeling so upset – not distraught like kids were when One Direction split (that was brutal to watch) – but I was so gutted that I would never hear another album again or get to see them in a proper concert. I had been to a 'Party in the Park' with my dad and his partner in, I think 2002-3 ish? They were there but we were nowhere near the stage so I couldn't really see them (doesn't count!)
I missed out on a lot growing up – especially during my previous relationship so when that ended in 2012, I promised myself I was going to make the most of opportunities and do everything I want to do when the situations arise.
Anyway, fast forward to 2014 – the biggest announcement of the year was that Matt and James from Busted were joining forces with Mcfly to create McBusted! I got tickets 2 days before the show, and I don't know how, but they were front row tickets! It was my first ever concert and it was incredible. Such an amazing concert – I could smell their aftershave they were that close. But, it wasn't as great for me as Charlie, who was always my favourite, wasn't there and it left me wanting more when I left. Charlie had refused to take part so Matt and James had gone on without him. It was still an amazing concert and I'll never forget that first experience.
Then, in late 2015 – the news dropped. There had been hints knocking around the media but it was eventually confirmed – Charlie was returning to Busted and they were having a reunion tour. My dream come true. I was ecstatic – and on the day of ticket release – I bagged myself 2 tickets and started counting down to the 18th May. And then – after what seemed like forever, it arrived. I was so giddy when we took up our position in the arena!
Let me tell you something. The opening to the show – when Charlie's face appeared on screen as they were about to come out – I cried. This was my childhood dream about to come true. I was so emotional. And I didn't actually feel petty or silly – I felt like my soul and heart was about to burst with happiness. (My heart still stops when I watch videos of it, such an incredible atmosphere!)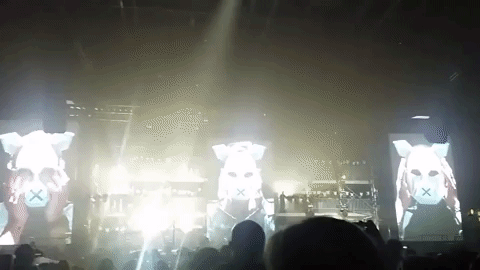 The whole concert was just so brilliant – I can't even describe it. Every part of it – and I sang at the top of my lungs until my whole head hurt. I was going to make the most of it – I'd been singing these songs for 14 years – hell yes I was going to scream those words out like a mad woman.
When they announced their reunion, they released an updated version of one of my all time favourite songs – not just Busted song – but all time, ever, song: Meet You There. At the concert, they sang this version and I was crying with joy. I had dreamed of listening to the song live since I was a kid and it had finally come true.
I went home after that concert feeling fulfilled – I felt like a child on the way home from their first trip to Disneyland. I was hooked – and went to their next gig, for my birthday the year following, at a small theatre in 2016. I cried there too. I don't mean like a weeping kind of crying, just a few streams of tears of joy. Like a – this is my happy place – kind of crying. They were even better in such an intimate setting – and performed their new music from their latest album.
I was quite sad when I thought about the concerts I'd missed as a child – as I re-watched the DVDs from 2002 and 2003 when they were in their prime. I'd always imagined it must have been amazing to be there when they were at the top of their game. But, as I realised with all my other favourite bands too such as Steps, the days they were in their prime, at least one member of the band was indescribably unhappy and miserable. They weren't genuinely enjoying the concerts, it was all fake smiles and false energy. But I was lucky that I got to see them when they were the happiest they had ever been. They had grown up, learned from their mistakes and reached a point in life where there was no pressure. It was all about the music – not being a music icon being pulled in every direction or touring every minute of everyday. I got to see them at their best – and for that, I don't feel sad anymore. I feel grateful.
For me, the concert in Nottingham will remain my favourite to date. It was a genuine dream come-true and I will never forget that euphoric feeling of singing Sleeping With The Light On where every single phone lit up the entire arena, and there was a sense of calm whilst everyone gently sang along to James and his guitar. Stunningly perfect.