Easter weekend usually passes by without any plans or events aside from eating one's own weight in chocolate eggs. So this year, I decided enough was enough – and booked 3 days away at the popular coastal town of Whitby. Strangely, being from Yorkshire, I had never actually been to Whitby myself and with my partner being from Ireland, I like to take him to new and different places around the country. So we both agreed and settled on the idea of Easter by the sea in Whitby!
For those who are thinking of visiting and would like an insight into what there is to do there and an itinerary example, here is what our three days away looked like:
Day 1
I had pre-booked us into a Bed & Breakfast (B&B) around 2 weeks before the trip. After perusing tons of B&B's – as Whitby is literally packed with them – I decided on one that looked very close to the local amenities and coast, and was good value for money compared to other places that had hiked up their prices for the Bank Holiday weekend! We paid £156 for two nights for two people – with breakfast included. The B&B was called Bramblewick Guest House – and was located just 5 minutes walk from the main streets of Whitby.
What we noticed immediately whilst driving into Whitby was how steep the areas surrounding were and we seemed to be driving downhill all the way from entering. The areas have built up around the port and we found we did an unbelievable amount of uphill walking during our visit. So, for any disabled or elderly tourists, it's something to be conscious of when making plans to wander around. Whilst the main street along to the pier is straight, flat and easy to navigate, Google maps is deceptive and doesn't show the steep hills around this area. Whilst I'm sure most electric wheelchairs and scooters would be fine with the gradual climb, those in manual chairs may find their carer struggles with pushing. My sister is disabled so I am always mindful of these things and how they not only affect the person, but also the people who may be with them! But don't let this put you off!
We arrived around an hour before the check-in time which actually turned out to be a god-send as the parking when busy is a nightmare. We spent around 45 minutes driving round street after street trying to find a spot. We eventually decided to give it up as a bad job and turned up at the B&B knowing they had parking permits that would allow us to park nearby for just £1 for 2 days. Luckily, a spot became available outside the door and we parked up and checked in.
Britain is infamous for it's mild and unpredictable weather – so whilst it wasn't raining, we decided we would spend the remaining few hours of the day going for a wander around the pier, port and town to get a feel for the place.
We first walked out towards Royal Crescent as it was located just at the end of our street. The buildings in Whitby are undeniably beautiful and the whole place is soaked in history. There are no 'modern' buildings to be seen – and the houses are magnificent. Royal Crescent is a street that was originally designed to have houses curved around it in a crescent shape – however, local history explains how the developer 'ran out of money' half-way through and the build was never finished. So we are left with this awe-inspiring half-crescent block of buildings that are still stunning to look at.
Opposite Royal Crescent were some lovely views of the coast up towards Sandsend and down towards Whitby Abbey and the pier.
We took a walk down to the very aptly-named 'Pier Road' that runs alongside the River Esk which leads out into the sea. Here is where the usual coastal-attractions, such as arcades, gift shops, food huts and restaurants are as well as beautiful views from the harbour up into Whitby and of the coastline. We took in the views – and got a feel for the relaxing town that was to be our holiday home for the next couple of days.
The views from West Pier – the name for the pier in Whitby – offered magnificent views of Whitby harbour. You can also go up to the top of the lighthouse which was closed when we arrived – likely due to the high winds that had closed off the access to the extended pier as seen to the left of the image above. It was incredibly windy – and the waves were crashing in thick and fast offering unlucky passers-by the opportunity of a fresh cold shower – free of charge!
Mindful of the fact it was Sunday, and a Bank Holiday weekend, we decided to make the most of the evening before the shops closed for the night. We took a stroll over the swing bridge and into Whitby town – amongst the winding cobbled streets with quaint independent shops selling a variety of wares from Whitby jet jewellery to artwork to local artefacts.
I stumbled upon a shop selling Yorkshire-inspired homewares and gifts and couldn't resist treating myself to a little gift which summed me up pretty well.
After some window shopping, we decided on visiting a restaurant I'd seen good reviews about – Humble Pie 'n' Mash (basically a pie and mash cafe!) I opted for the Yorkshire Sausage and my partner went for the Steak and Stout. The cafe was the smallest I've ever been in, and prides itself on being rustic and traditional looking. The furniture is all original antique wood tables and chairs, and it looks like a kitchen straight from the 1940s. There were 1950s songs playing on the radio – and the place was full. Every table taken. The pies were served quickly, piping hot with lots of gravy – just how Yorkshire folk like it.
We had hoped to finish up the evening with some live music at The Endeavour – but was turned away at the door due to how packed out it was! So – we turned around and walked to The Dolphin just on the other side of the swing bridge to enjoy a couple of drinks before heading back to the B&B for a rest where our Easter Egg was waiting!
Day 2
Unfortunately, the British weather decided that Easter Monday was going to be the day for a torrential downpour! So, the plans we had for an outdoorsy day were already looking bleak. But, we didn't let it hold us back. We decided to start the day with a local tour bus journey – which would take us around Whitby and up to the Abbey avoiding those 199 steps in the horrific wind and rain! For £6.50 per adult – hop on, hop off – it sounded good to us!
The bus was going to make it's first stop at the top of our street however as we didn't have cash, we were going to head down to the pier, take out some money, and catch it when it made it's circle onto the pier. This, however, didn't go to plan and we ended up missing two buses and getting stuck in the rain! So, I pulled out my handy bag of 2ps that I'd brought along and we took shelter from the rain in an arcade on the 2p machines! A British holiday must.
We finally managed to get onto a bus – which was an open top, so the whole bus was freezing! But we trundled along the coastline, through the main roads of Whitby and up to Whitby Abbey. There was an audio-tour playing so we learned about the history of Whitby whilst making our ascent. Whitby has some beautiful buildings and is rich with coastal history – the bus is worth it as with Whitby being such a small town, you don't need to use a car to get around to the main spots, so it was nice to see some different areas by road.
When we arrived at the Abbey, we couldn't find a way to the ruins and followed the crowd into a building. When we stepped inside, we were told there was a fee to see the ruins – £8.60 each – and that with the fee, we could also see the museum upstairs. Our bus had set off again and we would have to wait another 40 minutes for the next one, so we paid (whilst also being forcefully sold a membership to which we kindly and repeatedly turned down). We went up to the 'museum' – which disappointing was literally just 3 or 4 cabinets of broken pots and items they had found during excavations. After spending 10 minutes looking at the various items, we made our way to the exit which led to the Abbey. As we approached the door, we could see people fighting the wind and it was literally knocking them sideways so we were anxious as to what the conditions were up on this hill.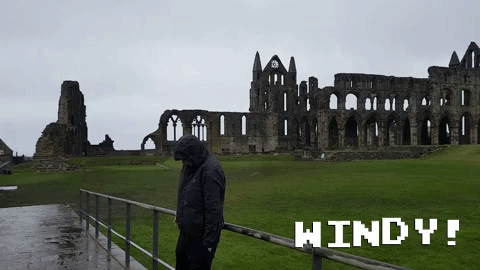 When we stepped outside, and the Abbey from this point looked beautiful and we wanted to get a closer look at the place.
There was a ramp that led down onto the grass – and around 100 feet away was the Abbey. But between the ramp and the ruins, the constant rain battering down had churned the grass and mud and turned it into a swamp. We had expected there to have been a footpath, or some stepping stones as such at our local ruins back in Leeds, but this wasn't the case and we hadn't brought our walking shoes with us. We umm-ed and ahh-ed about whether to risk it or not as it was like a wind tunnel up there – but when we reminded ourselves we had paid almost £20 to get in – and we were only 10 minutes in to our visit – we said 'sod it' and started doing the awkward tip-toe-run across the field!
After 5 minutes navigating across the swamp, we finally made it onto solid stone and spent some time wandering around the ruins. The detail is absolutely stunning; there's no doubt that early stone buildings had a lot of time and thought put into the build and the design. You could imagine the impact the building would have had in it's prime – and is the sight you see from all over when approaching Whitby, it's one of the first things you see. Unfortunately, during Henry VIII's reign, it was destroyed and the ruins are what was left of that crusade.
We decided we would make the next bus as we were being battered by rain and our shoes were seeping water with each step! So, we left and waited outside for the next bus and decided we would go back into town and buy some new shoes to keep us dry for the next couple of days we had left. After picking up some shoes, we headed back to our B&B to freshen up as we were covered in mud, rain and whatever else – and made plans to go for late-lunch at one of the famous Fish and Chip restaurants Whitby has to offer.
We settled on The Quayside – which a few of our friends had recommended – and opted to sit-in and rest our feet. There's an extensive menu – we opted for the 'meal deal' – a fresh Battered cod, chips, curry sauce, a pot of tea (a Sprite for me!) and some bread. It was £14 each if I remember correctly, and it was lush. We hadn't eaten since 8am and we welcomed the hot food and relaxed atmosphere. My partner only drinks tea when he's unwell or really cold – and he had 4 pots of tea that day – so you can imagine how freezing it was outside! Especially next to the sea; there really is such a thing as 'sea air' and it hits you like no other. Makes your cheeks bright red and keeps you awake.
After our chippy dinner, we decided to stay out of the rain and went to play a game of mini-golf! My partner is a keen golfer and takes the game seriously – even crazy golf! He had the score card at the ready with his little pencil. I'm not good at golf – but I decided this was going to be my day. The golf was a pirate-themed course with quirky displays popping up and down. It goes upstairs into a little wooden room at one point, and when you pot your ball, it runs downstairs and lands on a barrel on the next hole. It was really fun; we enjoyed the afternoon and it was a break from the walking and the cold. I lost by just two points – I'm still relishing in it and have pinned the scorecard up on our fridge to remind him that I'm not that far behind him in skill!
After golf, we took a stroll around the arcade it was located in and had a go on some of the skill games. It was actually a really enjoyable evening – and despite the rain and the extra cost of buying shoes to replace the ones we had ruined, we felt we'd had a good day and was ready for bed early evening! On our way back to the B&B, we stopped in a little pub for a drink, and relaxed for an hour. Those hills are knackering! Our B&B was located at the top of a steep climb – and our room was an additional 50 steps up from the entrance so we would collapse on the bed on arrival! We spent that night watching TV, reading and playing cards whilst eating our Easter egg. Bliss.
Day 3
We woke up bright and early for breakfast – which was a buffet of cereals, fruit and toast – and a cooked breakfast which we had ordered the night before. The food was beautifully cooked and set us up everyday for our travels. We finished packing after breakfast, loaded the car and was going to head straight home to avoid the bank holiday traffic home.
However, as we were making our way to the motorway, we decided we would make a stop at Robin Hood's Bay as we had originally wanted to do but had changed our minds, and made a quick turn and started the 20 minute drive back to the coast. It is located around 6 miles down the coast from Whitby. As soon as we started driving down towards the coastline again, we knew we had made the right decision to visit.
The place is absolutely stunning. The weather had perked up in the morning, and we had bursts of sunshine and warmth coming through. We parked up where everybody else seemed to be parked and started to follow the crowd down to where we assumed was to the beach (we hoped!)
As soon as you start your descent, you are immediately met with an incredibly steep walk down. The village is built up around this one steep road, and there are stunning cottages and buildings that distract you from how tiring the walk back up is going to be!
After 10 minutes walking, we made it onto the beach – and the walk was totally worth it. We were met with an expansive beach and cliffside views. It was stunning.
We spent 40 minutes walking around, collecting some shells and rocks to put in our fish tank back home, and skimming stones into the sea. It really was a gorgeous morning, and marked a positive end to our few days away.
The walk back up was a killer; I had a huge coat on expecting it to be freezing down on the beach and it took much longer going up. It was so steep!
But getting to the top was a feat in itself and we felt accomplished! With one last look back over the sea, we got back in the car and headed back home to reality.