The Rules
1. Include the picture below and these rules in your challenge posts
2. Tag me in your submissions so I can check out your daily posts!
3. If sharing on social media, use the #Blogmas tag and tag me! @FrancescaWho
4. Post in order as they appear on the challenge list
5. Have fun and Merry Christmas! 🙂
How I Get Into the Christmas Spirit
I'm a Christmas Spirit elf most of the year through. If someone needed me to get my Christmas on in June, I would have no problem doing it whatsoever. However, I do well to hold off until at least end of November.
This year will be a little different as we're moving into a new house in December but don't know when! So I can't get into the spirit as much as I would like to as I can't 'deck the halls' until we get the keys! However, here are some of the ways I get into the spirit of Christmas ready for the big day:
Listen to Christmas music
The first thing I do at the earliest possible time is bang on the Christmas album. My first #blogmas post was on my favourite Christmas songs – but pretty much all Christmas songs work for this! One year, I found an online radio that plays Christmas music all-year round and I that on for a good while – but again, I'm doing better at not peaking early. But as soon as I hear that 'tingle' and Mariah Carey blasting out 'All I Want For Christmas' (which lets be honest, it's always on in some shop somewhere) – you know that the festive season is upon us.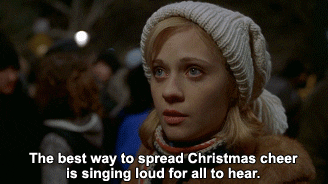 Put up the tree and deck the halls
I put up my tree as early as possible. That's not because I'm a Christmas-maniac who needs to feel it's come earlier than it is, but because I spend/spent a lot of money on my decorations and it feels a shame to only enjoy them 1 or 2 weeks in the year before they go back in the loft again. So I usually put mine up at the very start of December (I have been known to put them up in late November!!) – and I get at least a good 4 or 5 weeks out of enjoying them!
Visit Christmas markets
Christmas markets, where I'm from, start in mid-November. I usually hold off from visiting them until end of November – and being wrapped up in the cold, walking round the lit-up stalls with glistening baubles and 'snow' hanging off the wooden huts really does get me excited for Christmas. The one in my city is popular, and I will usually go 3 or 4 times in December with various friends and family. Or on my own – as it's only 5 minutes from my work! It's also lovely to visit other towns and see their markets too. York is such a quaint and beautiful place, and I love their Christmas market. It feels very festive walking through the old streets with the leaning buildings with their shop windows decorated with all things Christmas.
Wrap presents
I have an incredibly nosey boyfriend – who enjoys guessing his presents and spoiling it for himself! So I have to start wrapping (and hiding) gifts pretty early. I start my Christmas shopping over the year so that it's less stress and more cost-effective. I bought my mother tickets for a show next year in August just to make sure I had them! So that was her present covered 8 months into the year.
People usually hate wrapping presents but I absolutely love it. There's nothing more peaceful for me than spreading everything out into piles on the floor, having 4 different rolls of paper on the go, and creating perfect little wrapped boxes finished off with ribbons and bows. Very soothing to a Christmas soul such as mine. Here is the first gift  I wrapped in 2018:
Binge-watch Christmas movies
Another tradition for myself is to watch as many Christmas movies as possible. With platforms such as Netflix and Amazon Prime providing unlimited scrolling through hundreds of movies, it's easy to get submerged into a festive parallel universe where nothing but Christmas matters. My favourite Christmas film of all time is Elf (who's isn't, right?). Buddy is definitely me – I'm a huge Christmas fan and would spread Christmas cheer all year around if it was socially acceptable. I wonder if Santa is hiring?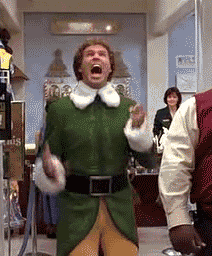 It doesn't take much for me to get into the Christmas spirit – but those are my main 5 steps to give me a little push. How do you get yourself in a festive mood? Let me know in the comments!