The Rules
1. Include the picture below and these rules in your challenge posts
2. Tag me in your submissions so I can check out your daily posts!
3. If sharing on social media, use the #Blogmas tag and tag me! @FrancescaWho
4. Post in order as they appear on the challenge list
5. Have fun and Merry Christmas! 🙂
My Most Memorable Christmas
27 years of Christmas means there's been some years that have passed by uneventfully, and others that have been more memorable than others. Christmas is my most favourite time of year – always has been. Not for the presents, though my favourite thing about Christmas is giving and watching my loved ones open their gifts! But for me, it's the one time of year that most people enjoy – it creates a buzz, people spend time together because there's special events going on and it really does bring families and friends closer.
The earliest Christmas I can remember is when I was around 4 or 5. My siblings woke me up very late (or what to me, seemed late) and crept downstairs holding my hand. I had no idea what was going on – but my sister opened the door to the living room, just a small opening, and we peeped through – 'Santa' was there placing presents under the Christmas tree. I couldn't believe it – I stood with my mouth open in awe and my brother and sister were grinning at me. When 'Santa' had finished, they took me back upstairs and I went to sleep happy in the knowledge that 'Santa' had already been and my behaviour for the year had been satisfactory enough for a gift.
That year, I got every Polly Pocket set you could imagine. They were my pride and joy for years to come but I vividly remember opening up boxes and boxes of Polly Pockets and a pile of them stacked up when I had finished.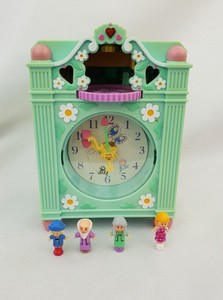 That was the last Christmas I remember my parents being together as they separated the year after, and my sister being home as she moved out a couple of years later (she's 10 years older than me). My brother got his Game Boy that year too. It's weird that it's the only Christmas I remember that clearly from when I was young, but it's such a special memory and one I hold very dearly.
I don't remember anything else about that day – not what we ate or what we were wearing – but I remember us, as a family, sitting on the carpet together next to the Christmas tree and my parents proudly watching us unwrap our gifts that they had worked incredibly hard to get for us. We were so appreciative – still are today – of what we got and it was never about getting us the most or spending the most. The gifts they got us back then, we played with for years to come.
After that Christmas, I always had two separate homes. My parents separated and I would spend Christmas Day with one, and Boxing Day with the other. But I will always cherish that one and only Christmas that I can remember spending as a complete family before everything changed. The fact my Dad and my siblings went to so much effort to make 'Santa' real for me, and the Polly Pockets – that became the staple toy of my childhood, starting that year – makes it extra memorable and extra special.